i-MiEV
Light Weight, Rear-Wheel Drive And Instant Torque Bubble Up There are two simple truths about the Mitsubishi i that should help this funky little electric car sell well in the U.S. once it goes on sale later this year. First, it looks like absolutely nothing else on the road today. Second,...
- Reviewed by Sebastian Blanco
FULL REVIEW
---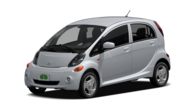 "As with most electric powertrains, acceleration is very good as peak torque is available on command from a dead stop.