FR-S
The New Poster Child For Cheap Thrills Let me tell you about a man named Larry. Larry works for a company called STI Fleet Services, one of a few companies that are responsible for the cleaning, prepping, maintaining, scheduling, delivering and picking up of the cars we test on a weekly...
- Reviewed by Steven J. Ewing
FULL REVIEW
---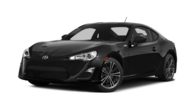 "Its limits are approachable and easily controlled, which makes for a wonderfully engaging sports car. The brakes don't fade, the gearbox is a pleasure to shift and the chassis remains composed even when the road surface doesn't.